In this realm of gentlemen's game, where the pitch becomes a battleground, and the ball is a weapon of choice, a chosen few stand out with an incredible gift: the ability to throw the ball at mind-boggling speeds. The anticipation in the air is tangible as the bowler rushes in, and in the blink of an eye, the stump is knocked off, the batsman is caught off guard, and the fans jump out of joy. These fastest bowlers in the world are a visual treat to watch. Keep reading this blog as we tell you about some extraordinary bowlers whose bowling speed is an indispensable force that can determine the outcome of a game. We shall be diving beyond the numbers, beneath the records, and into the lives of these modern-day heroes.
List Of Top 10 Fastest Bowlers In The World (2023):
Let's check out the complete details about the top 10 fastest bowlers given below.
| | |
| --- | --- |
| Bowler | Fastest Delivery |
| Shoaib Akhtar | 161.3 kph (100.2 mph) |
| Brett Lee | 161.1 kph (100.1 mph) |
| Shaun Tait | 160.8 kph (99.9 mph) |
| Jeff Thomson | 160.6 kph (99.8 mph) |
| Mitchell Starc | 160.4 kph (99.7 mph) |
| Andy Roberts | 159.5 kph (99.1 mph) |
| Fidel Edwards | 157.7 kph (97.9 mph) |
| Mitchell Johnson | 156.8 kmph (97.4 mph) |
| Mohammad Sami | 156.4 kph (97.1 mph) |
| Shane Bond | 156.4km/h |
10. Shane Bond (New Zealand) – 156.4km/h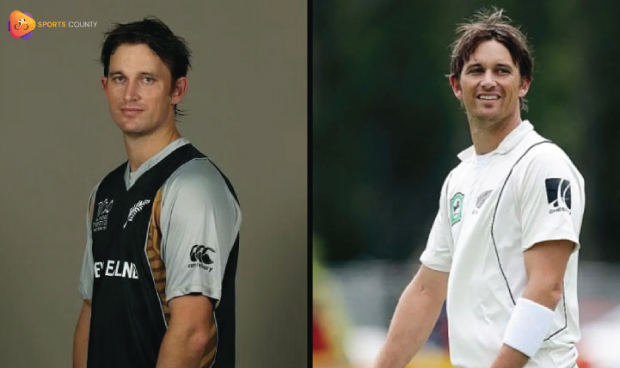 Shane Bond's bowling is not just a display of speed; it is an exhibition of fearlessness. It is the embodiment of a warrior's spirit, a relentless pursuit of excellence, and a stark reminder to his adversaries that in the world of cricket, pace is a fearsome ally. His style is not just quick; it is a phenomenon – a heart-pounding, pulse-quickening phenomenon that leaves its mark on the sport's history, earning him the title of the 10th fastest bowler in the world. At ICC Cricket World Cup 2003, he wreaked havoc with 6 wickets for 23 runs in a crucial Group A match against Australia. A back problem in 2003 led to nearly two years out and an operation in which his spine was fused with titanium wire. He also had problems with his knees, feet, and other body parts, but Bond's desire to play was unwavering. Despite his relatively short international career due to injuries, Bond's impact on the game's fast-bowling fraternity remains profound.
Wickets taken
9. Mohammad Sami (Pakistan) – 156.4km/h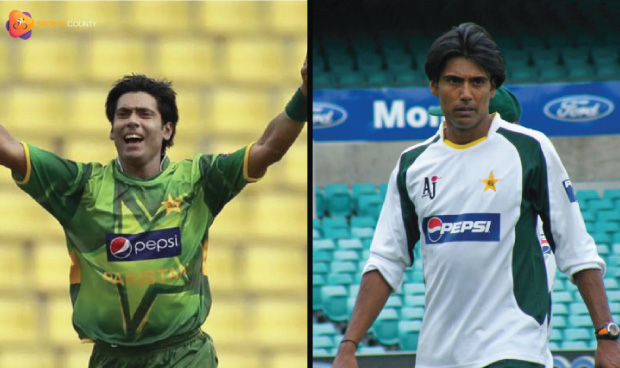 Mohammad Sami is a Pakistani cricketer who is known for his fast bowling abilities. He has been recognized as one of the fastest bowlers in the world during his career. Sami's rapid arm action and wicket-taking skills have made him a formidable bowler in both domestic and international cricket. He scored a hat-trick against Sri Lanka in the Asian Test Championship final two Tests after his debut. One of his iconic moments is bowling a 17-ball over (7 wides and 4 no-balls) in the 2004 Asia Cup, which took Bangladesh from 6-1 to 30-1. In the 2015 World Cup, he helped his side reach the semifinals. His career was derailed soon after the competition when he was diagnosed with a knee ailment. During that time, he missed the limited-overs tour to Australia, the Asia Cup, and the World T20.
Wickets taken
85 Test wickets
121 ODI wickets
8. Mitchell Johnson (Australia) – 156.8km/h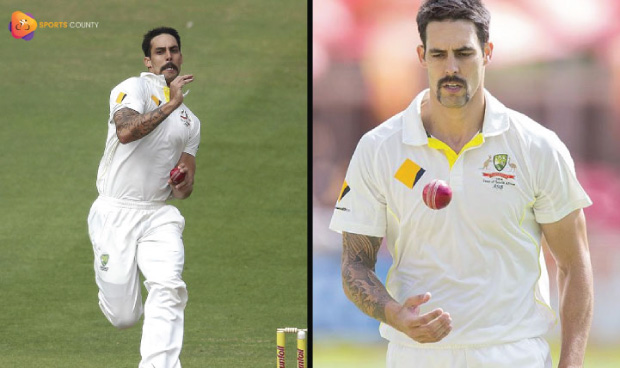 Mitchell Johnson is indeed one of the most renowned left-arm fast bowlers in modern cricket history. He hails from Australia and had a highly successful international career spanning from 2005 to 2015. Johnson was known for his express pace and the ability to generate bounce and swing, which made him a formidable force in world cricket. Johnson was a member of Australia's squad for the 2006 Ashes but did not appear in the playing XI. When opportunity knocked on his door, he rolled out the red carpet. Johnson showed signs of promise in his maiden game against Sri Lanka, taking 4/96. Johnson shone in the second Test of South Africa's tour to Australia in the latter half of 2008, capturing 8/61. Later in the same series, he batted with Clarke and scored 64 runs.
Wickets Taken:
313 Test wickets
239 in ODIs
38 in T20Is.
7. Fidel Edwards (West Indies) – 157.7km/h
With a brilliant 6/22 off 7 overs, Fidel Edward's Debut was spectacular, and he proved to be the fastest bowler in the world. Edwards's iconic moment happened in the 2008-09 tour to New Zealand with a brilliant spell of 7 for 87, reaching the 100 wickets mark in the process. He became a victim of unexpected injuries and gave two failures against England and South Africa in 2007. He was later withdrawn from the test team and the 2007 World Cup squad. He was quickly brought back and demonstrated what the Windies were lacking with a blazing 5-wicket haul against England.
Wickets taken
6. Andy Roberts (West Indies) – 159.5km/h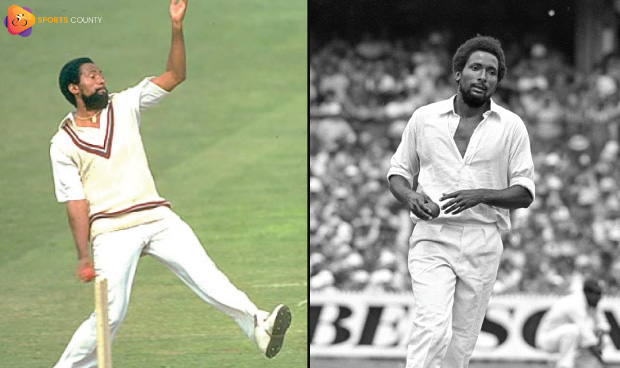 It seems like you're talking about a cricketer named Roberts who is known for his ability to seam and swing the ball at high speeds, earning him a spot among the fastest bowlers in the world. Roberts reached 100 Test wickets in less than two and a half years, the quickest at the time, and his greatest years were definitely in the middle 1970s, before the Packer revolution. Except for a gunslinger's narrowing of the eyes, Roberts always remained poised and calm, no matter if it was a wicket or boundary. But beneath the surface was a clever cricketer with a fertile mind calculating and arranging batters' demise as if it were a military campaign.
Wickets Taken:
5. Mitchell Starc (Australia) – 160.4km/h
Following a debut match for New South Wales, he took 21 wickets in 8 Shield matches the following season, including a stunning 5 for 74 against Queensland. Starc's first run of consistent performances came in the domestic one-day event, where he grabbed 26 wickets in six matches at an average of 8.12 and struck once every 12 balls. At 20, Starc was picked to the squad as a backup fast bowler for the brief Test series in India in late 2010. In the second Test, right-arm bowler Peter George was given precedence over him, and Starc had to be content with warming the bench and bowling in the nets.
Wickets Taken:
244 Tests
178 in ODIs
43 in T20Is
4. Jeff Thomas (Australia) – 160.6km/h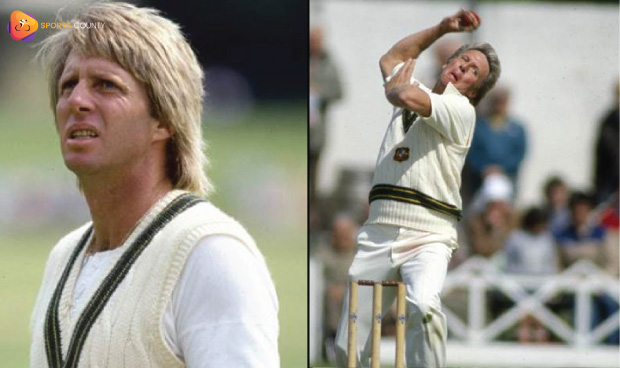 Jeff Thomas is one of the players with the fastest bowling speed in cricket history and was inducted into The Australian Cricket Board's Hall of Fame in 2016. He debuted against Pakistan in 1972-73 but was rendered ineffective due to a broken bone in his foot (which he concealed from the selectors). In 1974-5, he was recalled and, along with Dennis Lillee, terrorized the England tourists with constant spells of extremely fast bowling, taking 33 wickets in the series.
He was always capable of releasing a lightning-quick bouncer that would skid and follow the batsman from just short of a length. He stayed with the Australian team when many others left. Jeff Thomson's sprint to the wicket was as quick as a man jogging around the block, but his action was one of cricket's most explosive; tilting back like a javelin thrower, he hurled the ball at speeds rarely, if ever, attained since.
Wickets Taken:
3. Shaun Tait (Australia) – 161.1km/h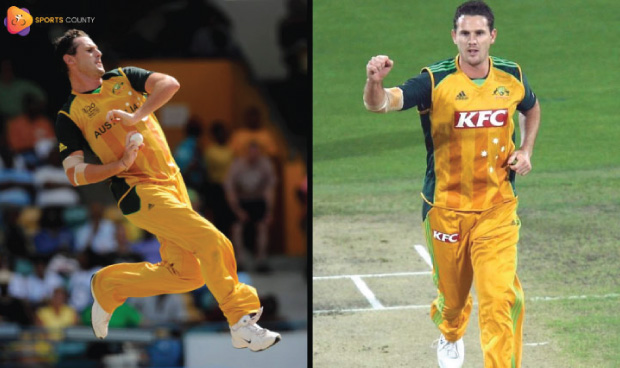 He was chosen ahead of Jason Gillespie for two tests in the 2005 Ashes Tour and is considered to be the fastest bowler in the world. His unorthodox action and constant pursuit of extreme speed caused him to damage himself and require shoulder surgery. He finished second on the list of wicket-takers with 23 at an average of 20.30, demonstrating Ponting's trust in him. He'd been given wide rein to assault the batsmen and go for the wicket.
Tait still plays T20s for Australia and the South Australian Redbacks. In the third and fourth editions of the IPL, he batted for the Rajasthan Royals. He was at best unpredictable, giving up wides and full tosses in some games and tormenting batters with toe-crushing reverse-swinging yorkers in others. He wasn't a regular on the side, and when the Royals chose to put him up for auction in the seventh edition of the IPL, he received no bids and went unsold.
Wickets Taken:
2. Brett Lee (Australia) – 161.1km/h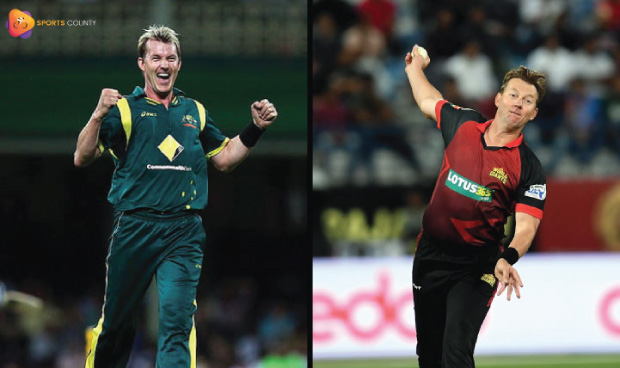 Ricky Ponting's captaincy did indeed coincide with a significant period in the career of Australian fast bowler Brett Lee. Brett Lee is known for his exceptional pace and is considered one of the fastest bowlers in the history of cricket. Lee became the first bowler to record a hat-trick at the 2007 T20 World Cup. Lee took nearly 700 international wickets for Australia during an illustrious career that lasted almost 13 years. Lee was identified as a cricketer by what he did with the ball, but his batting ability was underappreciated. He reached a speed of 161.1 km/hr versus New Zealand in 2005 at Napier, breaking the 100-mile mark.
Wickets Taken:
1. Shoaib Akhtar (Pakistan) – 161.3km/h
The cricketer fondly named the "Rawalpindi Express" is Shoaib Akhtar. Shoaib Akhtar, a former Pakistani cricketer, was known for his incredible pace and was widely regarded as one of the fastest bowlers in the history of cricket. One of the memorable moments was the clash between Akhtar and Sachin, which occurred during the 2003 World Cup in Centurion, South Africa. The Master was at his best against Akhtar, hitting delicate cover drives and brilliant upper cutters, but the speedster returned with a bouncer ripper to eliminate Sachin on a score of 98. Shoaib had shortened his run-up near the conclusion of his career, but he could still achieve the speed he was known for.
Wickets Taken:
Summing Up:
With this, we conclude our list of the top 10 fastest bowlers in the world. One could understand that these legends have not only shattered records but also pushed the boundaries of human capability. From Shoaib Akhtar's explosive express pace to Dale Shaun Tait's precision and ferocity, each speedster has etched their own identity in cricket history. The rankings may change, and records may be broken, but the legacy of these fastest bowlers will live on in cricket history. Beyond their impressive stats, it's about the narrative they've written on the field, the echoes of their deliveries, and the excitement they've instilled in the cricket world. After all, whether it's a cricket ball or a blog piece, what matters most is the impression it left.
FAQs
What was the speed of Shoaib Akhtar's fastest ball?
During the 2003 Cricket World Cup, the fastest delivery recorded was 161.3 km/hr versus England.
Who is the fastest bowler in India in 2023?
Umran Malik is often considered as India's fastest bowler. He made a record by bowling the fastest ball ever bowled by an Indian bowler (157kmph). He accomplished this milestone during the Indian T20 League match against the Delhi team on May 5, 2022.
Who holds the fastest bowler Guinness World Record?
In the 2003 World Cup, Shoaib Akhtar achieved an official world record by bowling the quickest delivery of 161.3km/h against England.
How many bowlers have bowled 100 mph?
Shoaib Akhtar and Shaun Tait are the two bowlers who have bowled 100 mph.