Choosing the best golf players in history necessitates several considerations, viz. their impact on the growth of the sport, number of registered wins, world rankings, longevity, records, and notable victories. For the unversed, this cross-country game entails striking a small ball with various clubs from a series of starting points, referred to as teeing grounds, into a series of holes on a course in the fewest strokes possible. Contrary to most ball games, standardised playing areas are unsuitable for this sport. Thus, the ability to cope with different terrains encountered on various courses is a critical game component.
Notwithstanding its attractions, golf is a game that demands a high degree of skill honed with immense patience and dedication. Ever since its inception in the 15th century, golf has created some of the best athletes alongside giving birth to some of the wealthiest and most influential sports personalities. It is natural for every golf fanatic to want to weigh in on the greatest ever debate of who is the No. 1 golf player in history.
The most formidable challenge in penning down this article was deciding on the first and second places. Outside of the big trio in tennis- Federer, Nadal or Djokovic, and Michael Jordan vs Kobe Bryant vs LeBron James in basketball, there is no more arduous debate in golf than Jack Nicklaus or Tiger Woods. While the aforementioned duo dominates most of the top 10 lists, new golfers like Jon Rahm and Collin Morikawa, making a name for themselves, are quickly climbing up the ladder. Without further ado, let us look at the top golf players of all time.
| S.No | Players Name | PGA Tour Wins |
| --- | --- | --- |
| 1 | Jack Nicklaus | 73 |
| 2 | Tiger Woods | 52 |
| 3 | Sam Snead | 82 |
| 4 | Arnold Palmer | 62 |
| 5 | Ben Hogan | 64 |
| 6 | Bobby Jones | 9 |
| 7 | Tom Watson | 39 |
| 8 | Gary Player | 14 |
| 9 | Gene Sarazen | 38 |
| 10 | Walter Hagen | 44 |
Who Are The 10 Best Golf Players In PGA History?
Below is a list featuring some of the greatest golf legends of all time determined by PGA (Professional Golfers Association) tour wins and major championship titles.
1. Jack Nicklaus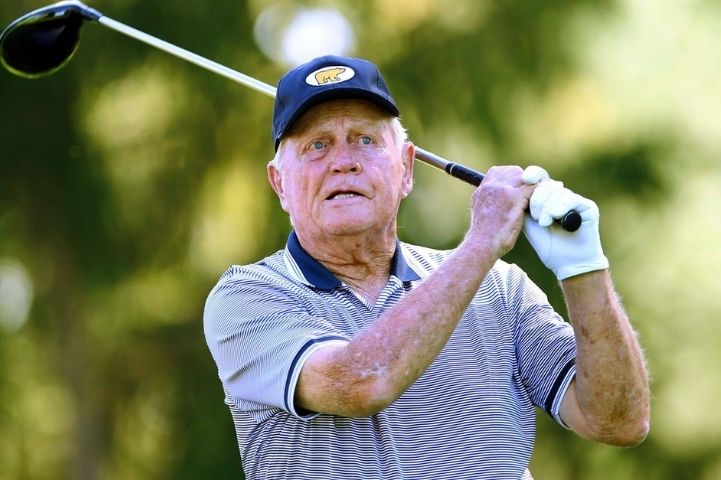 Popularly known as The Golden Bear, Jack Nicklaus is undisputedly regarded as one of the best golf players in the world. Born on January 21, 1940, in Columbus, Ohio, Nicklaus has been engaged with the sport since he was a little child. Ever since he shot 51 on his first nine holes, his game has been improving perpetually. Besides golf, he has also been actively involved in a couple of other sports, including basketball, baseball and tennis.
His physical skill and strength, coupled with mental toughness, have been the driving forces in his sustained level of excellence. His magnificent career started in 1962. He bagged the US Open title in Pennsylvania, defeating Arnold Palmer in his territory. This made his feat more commendable. The following year he won his first Masters in a single stroke. Two years later, in 1965, he won his second Masters by nine strokes. More than Hogan and Palmer combined, a litany of accomplishments comprising 18 professional majors speak volumes about his gameplay. Jack, in his prime, ousted several greatest players, and when he didn't beat them, he made sure to coax the very best out of them. The 'Jack Nicklaus Award' named after him is given to the PGA TOUR Player of the Year, as decided by the membership of the tour.
Nicklaus Designs, one of the largest global golf design practices, have contributed to approximately 1% of all the golf courses in the United States. Nicklaus outdid Seve Ballesteros, Tom Kite and Greg Norman, all of whom were at the peak of their prowess, to win his sixth Masters in 1981 at the age of 46.
Career Statistics
PGA Tour Wins: 73
Major Championships: 18
Winner of a record six Masters
Professional victories: 118
European Tour Wins: 9
PGA Tour money titles: 8
PGA Tour Champions Wins: 10
PGA Tour of Australasia wins: 3
2. Tiger Woods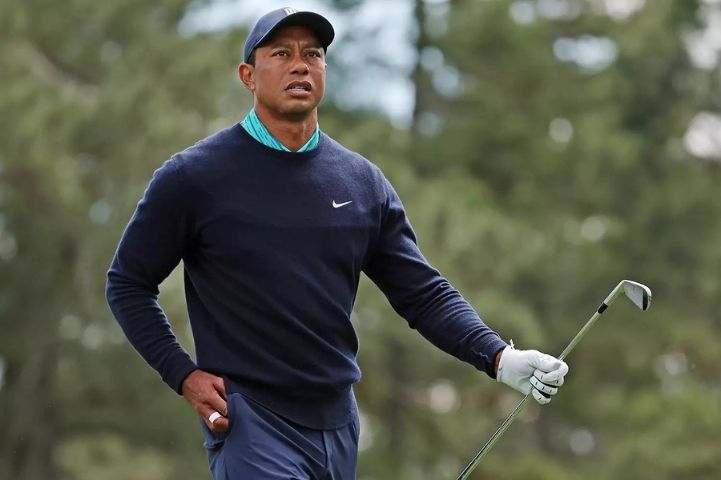 This golf legend, who has won 25 per cent of the professional tournaments he has played, needs no introduction. Phil Mickelson occupies the second place on that list with 8 per cent. Few of the many endeavours that separate him from others include his US Open Championship win by 15 shots, the British Open by 11, the Masters by 12 and the "Tiger Slam".
Woods began a trajectory in April 1997 that led him to dominate the list of the top golf players when he struck a 12-shot margin of victory, trouncing Tom Kite. The tournament started poorly for Tiger, which not many people remember. Woods went out in 40 on the front nine, leaving Tom at four over par. Over the next 63 holes, Woods dominated the course at Augusta National, etching an indelible tournament terrorising the greatest golfers in the world.
Constantly driven by a never-say-die attitude and an unparalleled will, Tiger pulled off one of the greatest comebacks in sports in 2018, rapidly moving from 656 to world number 13 in merely one season. The following season, Tiger won the US Masters by two shots securing his place in the sporting legend on 15th April, 2019. It was his first major since 2008. He is the only golfer, after Jack Nicklaus, to win a major in three different decades.
Career Statistics
PGA Tour Wins: 52
Major Championships: 15
Only golfer ever to win four consecutive majors
lowest scoring average in the history of the PGA Tour
PGA Tour Player of the Year: 10 times
lowest single-season average in Tour history: 67.79 in 2000
3. Sam Snead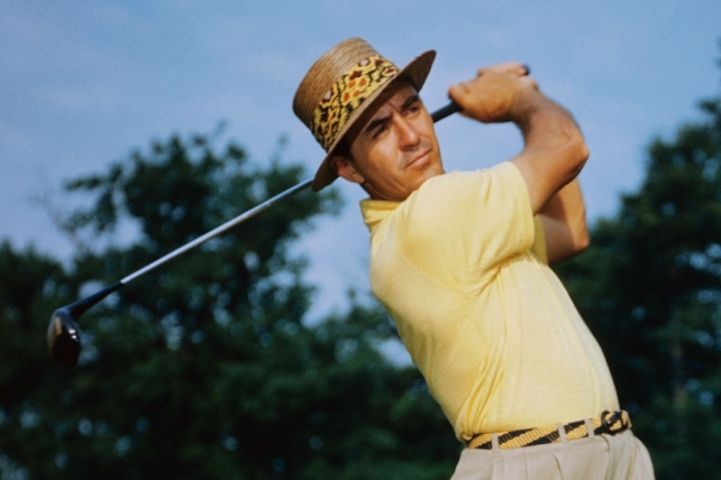 Recognised as one of the best golf players in PGA history, Samuel Jackson Snead was commended for his perfect swing, which, to date, has been the subject of countless imitations. The Slammer from West Virginia started as a caddy and gradually worked his way to the top pioneering a croquet style in the 1960s. Registering 82 wins on a PGA Tour, this Long Ball Hitter posted wins in 4 different decades.
His effortless swing helped him amass eight Great Greensboro Open titles and 17 wins in one event – West Virginia Open. Slamming Sammy conquered a global landscape and was inducted into the Virginia Sports Hall of Fame in 1973. Setting irrefutable standards of excellence at every step along the way, Snead won 3 masters, including a 1954 playoff triumph over Ben Hogan. Additionally, he also clinched three PGA Championship titles and a British Open. However, Sam never won a US Open, which prevents him from legitimately claiming the title of the greatest player in history. He finished as runner up four times in 1937, 1947, 1949 and 1953.
His syrupy swing served him well in his golden years and is still the gold standard for golf swings today. Golf fans all across the globe were fortunate enough to witness his greatness one last time at the age of 67, when he became the first player to score below his age, shooting 67 and 66 in the Quad Cities Open.
Career Statistics:
PGA Tour wins: 82 (in a career spanning 1963 to 1965)
Professional victories: 165
International victories: 6
Major championships won: 7 (including 3 Masters and 3 PGA championships)
Oldest player in PGA Tour history to win, make a cut and shoot his age
Top ten finishes in majors in five different decades
Also Read: Top 10 Most Popular Sports In The World Today
4. Arnold Palmer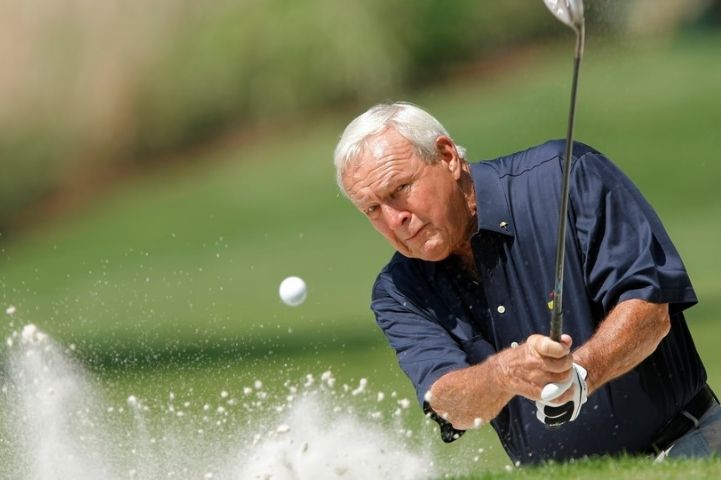 Pilot, businessman and esteemed golfer Arnold Palmer was the driving force behind popularising the sport and bringing it to the masses like no other player. Swashbuckling Palmer joins the ranks of Nicklaus, Woods and Snead as one of the famous golf players in PGA history. Born in an industrial town in Western Pennsylvania, Palmer had been playing golf from a very young age and got into Wake Forest college on account of a golf scholarship. Idolised by fans for his go-for-broke style, Palmer had won many prestigious awards besides championship trophies.
To list a few, he was the recipient of the 2004 Presidential Medal of Freedom, 2009 Congressional Gold Medal, American Golf Hall of Fame, World Golf Hall of Fame and Sports Illustrated Sportsman of the Year. In a career spanning over six decades, his remarkable contributions to the field of golf landed him a Lifetime Achievement Award in 1988. He was inducted into the World Golf Hall of Fame in 1974. He dominated the Masters from 1958 to 1964 and bagged seven major titles. Palmer has also designed 300 golf courses.
The Arnold Palmer Award- Rookie of the Year, named after him is given to the PGA TOUR Rookie of the Year, as chosen by the membership of the tour.
Career Statistics:
PGA Tour Wins: 62
Professional victories: 95
Major Championships: 7 (4 Masters, 1 US Open, 1 British Open)
PGA Tour Champions Wins: 10
European Tour Wins: 2
PGA Tour of Australia Wins: 2
5. Ben Hogan
Given his silent demeanour, the consummate ball striker was famous for exuding stoic vibes. Hogan's first major win was at 34 in the 1946 PGA Championship. Having survived a near-death car crash at the age of 36, Hogan was told by the doctors that he might never be able to walk again. He endured a fractured collar bone, left ankle, double pelvis fracture, chipped ribs, and fatal blood clots. To everyone's amazement, within merely 16 months of the accident, Hogan won the US Open in Pennsylvania (1953) and returned to being one of the world's best.
Alongside winning nine major championships, Ben is one of the only five players who have clinched all four majors, namely, the Masters Tournament, the US Open, The Open Championship and the PGA Championship, alongside Woods, Nicklaus, Player and Gene Sarazen. Affectionately referred to as the "Wee Ice Man", Hogan boasts 63 carer titles despite serving in the US Air Force during World War II. He established the Ben Hogan Company, specialising in golf equipment like handcrafted clubs and other golf accessories and apparel. He was inducted into the Metropolitan PGA Hall of Fame in 1974.
Career Statistics:
PGA Tour Wins: 64
Professional Victories: 71
Major Championships: 9 (2 PGA Championships, 4 US Open, 2 Masters Tournaments and one British Open)
International Victories: 1956 World Cup
6. Bobby Jones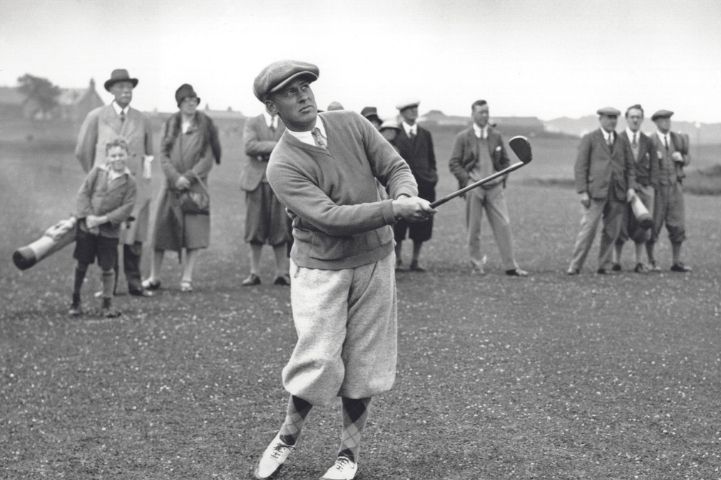 One of the most legendary amateur golfers, Bobby Jones, was just 14 when he won his first major golf tournament. This piqued the curiosity of the United States Golf Association, resulting in an invitation to play at the US Amateur. His career spanned from 1923 to 1930, and he retired from competition at 28. Alongside co-founding the Masters Tournament, he also founded and helped design the Augusta National Golf Club. During his peak, Bobby dominated the top-level amateur competition and has also defeated golf pros of the era like Walter Hagen and Gene Sarazen.
He was the first player to win The Double: The British Open and US Open Championships in the same year (1926). He joined the likes of Chick Evans to become the second player to win the US Open and the US Amateur the same year (1930). This year, in fact, marked his career highlight where along with the aforementioned titles, he also won the Amateur Championship and The Open Championship (British Open). He also served as the playing captain of the US national golf team in 1928 and 1930.
Career Statistics:
PGA Tour Wins: 9
Walker Cup Wins: 5
Won the 1930 Grand Slam — the U.S. and British Opens and the U.S. and British Amateurs
Won 13 out of the 31 majors he played and finished top 10 in the remaining 27.
Also Read: The 10 Best NBA Players Of All Time
7. Tom Watson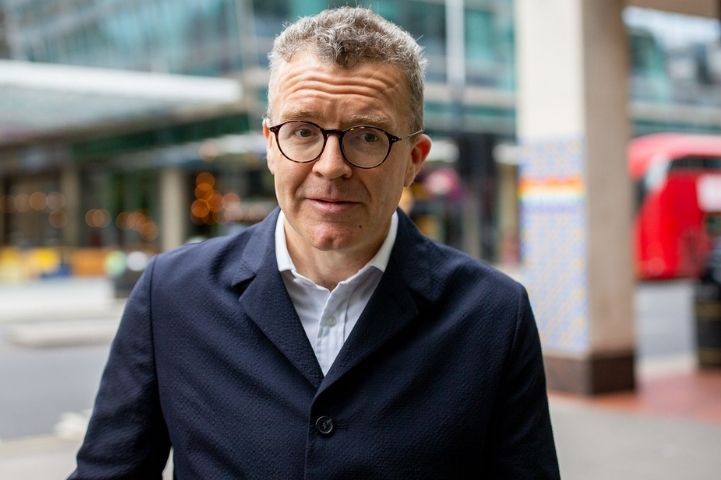 Thomas Sturges Watson was one of the famous golf players of all time who asserted his dominance in the sport from the mid-1970s to the 1980s. Winner of eight major championships, Watson was popular for his longevity in the game and exhibited prowess regardless of his old age. At 59, he came within a whisker of winning the British Open but lost in a four-hole playoff. According to McCormack's World Golf Rankings, from 1978 until 1982, Watson was declared the number one player globally.
In Watson's illustrious career, he has bagged five Open Championships, two Masters titles, and one US Open title. However, the fact that the PGA Championship has eluded him obstructs his entry into the elite list of Grand Slam winners, including Gene Sarazen, Ben Hogan, Tiger Woods, Jack Nicklaus and Gary Player.
Watson has also been hailed as one of the best links players of all time, given his five Open Championship victories, his three Senior British Open Championship titles (2003, 2005 and 2007), and his runner-up finishes at the 1984 2009 Open Championships. Originating from Scotland, 'Links' are the oldest style of golf course generally built on sandy coastlands. Watson has also been recognised as the PGA Tour Golf Player of the Year on six instances (1977, 1978, 1979, 1980, 1982, 1984).
He was also bestowed with several prestigious awards like the Bob Jones Award, Payne Stewart Award, Old Tom Morris Award, Vardon Trophy, and Charles Schwab Cup, alongside being inducted into the World Golf Hall of fame in 1988.
Career Statistics:
Professional Career Wins: 71
PGA Tour Wins: 39
PGA Champions Tour Wins: 14
Major Championships Wins: 8 (five Open Championships, two Masters and One US Open)
European Tour Wins: 8
8. Gary Player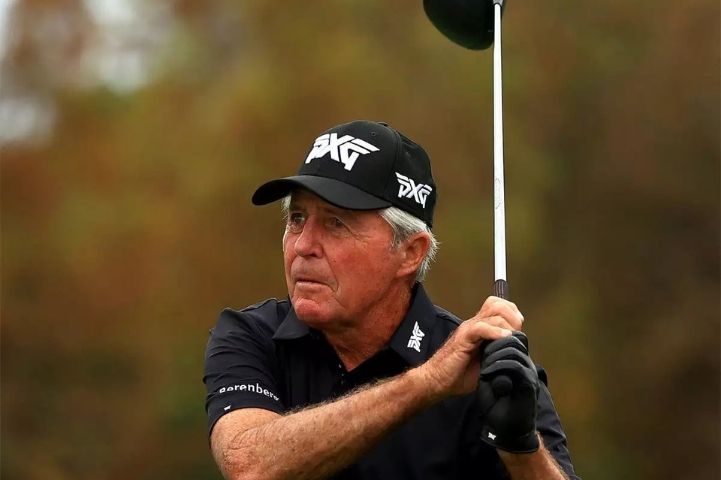 Lovingly referred to as The Black Knight, Gary has bagged 167 global professional tournaments, rightfully placing him on the list of top golf players of all time. Additionally, he was the only non-American and one of the lone five golf legends to have landed a Grand Slam at 29 after winning the US Open. His Player Design Firm has been the driving force behind designing over 400 golf courses worldwide.
The philanthropist raised more than $62 million through The Player Foundation, which catered to the education of underprivileged children. This International Ambassador of Golf boasts more victories than any other player in the South African Open (13) and the Australian Open (7).
He also held the record for the most victories (5) in the World Match Play Championship, later equalled by Seve Ballesteros and later broken by Ernie Els, who won the event six times. At 48, Gary became the oldest ever Major Champion in 1984, finishing as runner-up behind Lee Trevino at the PGA Championship. He was awarded the Sportsman of the Century Award, Hilton Hotel Lifetime Achievement Award, PGA Tour's Lifetime Achievement Award, and Laureus Lifetime Achievement Award and was inducted into the World Golf Hall of Fame in 1974.
Career Statistics:
International Victories: 116
PGA Tour Champions Wins: 14
Major Championships: 9 (three Open Championships, Three Masters, two PGA Championships and one US Open)
9. Gene Sarazen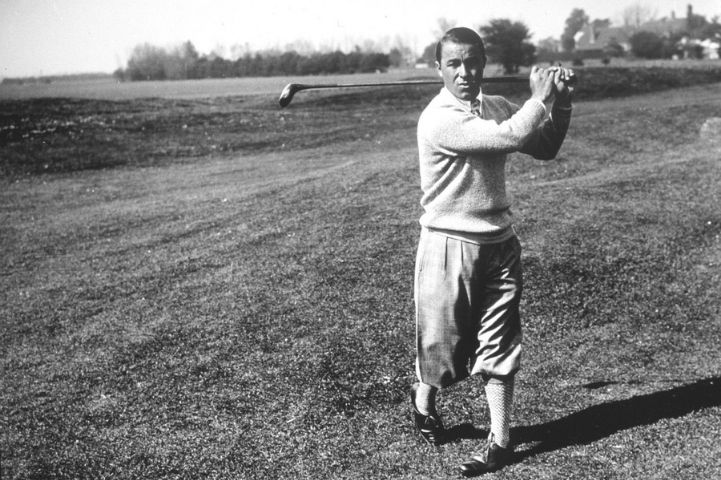 Gene cemented his reputation as one of the best golf players, recording seven major Championships throughout his illustrious career. The seven major championships winner was the most prominent golfers from the 1920s to 1930s. He joined the likes of Jack Nicklaus, Tiger Woods, Ben Hogan and Gary Player and was one among the top 5 to win a Career Grand Slam. He won the US Open in 1922 and 1932, the PGA Championship in 1922, 1923 and 1933), The Open Championship in 1932, and Master Tournament in 1935.
Besides winning numerous championships, Gene was also the impetus for introducing the sand wedge. He toiled for months, perfecting its design leading to his most significant contribution to golf, the "sand iron". Whether elite or amateur, every golfer has since used the wedge design and technique of the club. He also insisted on enlarging the golf hole from four to eight inches but could not persuade its implementation.
A highlight of Sarazen's career was when he made a hole-in-one at The Open Championship in 1973 at the age of 71. This commendable feat etched his name in the history of the famous golf players of all time. He was the recipient of the coveted Bob Jones award, which is considered the highest recognition granted by the United States Golf Association.
Career Statistics:
PGA Tour Wins: 38
Australian Tour Wins: 1 (1936 Australian Open)
Major Championship Wins: 7 (3 PGA Championship, 2 US Open, 1 Masters Tournament and 1 Open Championship)
Also Read: 20 Interesting Baseball Facts That Will Blow Your Mind (2023)
10. Walter Hagen
With a tally of 11 professional majors, Walter Hagen was a significant figure in golf in the first half of the 20th century. Renowned as the "father of professional golf", Walter was recognised as one of the greatest showmen whose panache had been instrumental in bringing publicity, prestige, big prize money and lucrative endorsements to the sport. In 1922 he became the first native-born American to win The Open Championship, in addition to winning the Claret Jug three more times.
Walter had a reputation for being one of the most influential personalities in golf and has participated in over 2500 exhibition matches worldwide. He was also a prominent figure in the design and manufacturing of golf clubs from Wilson Sports. Walter Hagen was the first winning captain (USA) to lift the Ryder Cup.
Career Statistics:
Major Championship Wins: 11 (five PGA Championships, four Open Championships and two US Open)
PGA Tour Wins: 44
International Wins: 2
Western Open Championship Wins: 5
With this, we conclude our list of the best golf players of all time. The names mentioned above would serve as the greatest inspirations to anyone wanting to make a mark in the field of golf.
Frequently Asked Questions (FAQs):
Question 1: Who is considered the best golf player ever?
Answer: Jack Nicklaus is the best golfer in history, having won 18 professional majors, two US Amateurs, three Players titles, 73 PGA Tour titles, 10 Champions Tour titles, and 115 victories worldwide.
Question 2: Who are the top 10 golf players right now?
Answer: Here are the top 10 Golf Players in the world right now:
1.Rory McIlroy, 2. Scottie Scheffler, 3. Cameron Smith, 4. Patrick Cantlay, 5. Jon Rahm, 6. Xander Schauffele, 7. Will Zalatoris, 8. Justin Thomas, 9. Matt Fitzpatrick, 10. Viktor Hovland
Question 3: Who is the most famous golfer?
Answer: The most popular golfer is Tiger Woods. He is unquestionably one of the top golfers playing today and has had an alot of success. Even people who do not follow golfing are aware of his accomplishments and popularity. Tiger Woods is therefore undoubtedly among the most well-known athletes in modern history.
Question 4: Who is better Jack Nicklaus or Tiger Woods?
Answer: There isn't much to compare, at least in terms of games, as both stars dominated different eras. But perhaps simply statistically, some people might have a preference for Nicklaus. Many people who support Woods talk about his influence on the golf industry. In addition, while Nicklaus has 73 PGA Tour victories, Woods has 82.