Highlights:
The much anticipated time has arrived as Neeraj Chopra, alongside compatriot Rohit Yadav, will be witnessed competing in the men's javelin throw at the World Championships in Eugene.
Olympic Champion Chopra says that due to lack of time to prepare, his strength has declined, though his techniques are making up for it.
Neeraj says that his arm speed has improved significantly, and that is a crucial aspect of the sport.
Neeraj Chopra, a javelin thrower, has been compelled to act like a student in a rush for time through no fault of his own. He has completed a year's worth of coursework in around six months. He lost valuable time preparing for the World Championships due to the prolonged congratulations following his Olympic gold medal. Step-by-step execution is required to lose weight, recover athletic condition, develop strength and flexibility, begin throwing routines, and refine technique.
Rushing a task is not a wise option in a sport where injuries are frequent. Chopra, however, has managed to pass with flying colours. Since returning to competition at the Paavo Nurmi Games in June, he has won a gold and a silver finishing second in the Diamond League and broken the national record thrice. He is a favourite at the World Championships in Eugene because of two throws of more than 89 metres this year and the third-best throw of the year. Neeraj, alongside compatriot Rohit Yadav, will be contending in the men's javelin throw qualification rounds in Group A & B at the US Hayward Field of the University of Oregon.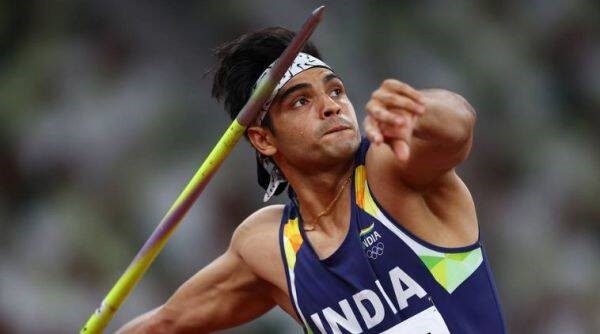 Long jump stalwart Anju Bobby George is the maiden and only Indian to win a medal at the World Athletic Championships. She finished third with a leap of 6.70m at the 2003 Paris edition of the competition.
Neeraj had failed to qualify for the final round at the 2017 Worlds in London. He fell 0.74m short of the 83m qualification mark, with his best throw recorded at 82.26m.
Chopra said that ahead of travelling to Tokyo, they were in Bhubaneswar, the Odisha capital, since the throwers camp had been relocated here from Patiala. He says he had greater strength during those days than in the present. He goes on to say that while in Tokyo, he could do complete squat reps with 160-170 kilograms, but now it has reduced to 140 kilograms owing to the lack of time to train and develop strength. Therefore, he has his focus set on technique, viz., the angle of the throw, which is helping him a lot.
Chopra's athleticism is his greatest asset. Because he excels at sprinting, jumping, and lifting, he could as well have been a decathlete. He also enjoys the blessings of suppleness, flexibility, and improved natural arm speed.
Neeraj says that his arm speed has improved significantly, and that is a crucial aspect of the sport. Throwing a lighter javelin during practice is one of the strategies Chopra has utilised to increase his arm speed. However, Neeraj believes there is always room for improvement when it comes to technique. Chopra utilises a javelin that is 100 grammes lighter than the conventional javelin used in the men's event to practise his arm speed.
Chopra's biomechanics coach, Dr Klaus Bartonietz, says he has been pleasantly impressed by Chopra's development this year. At the Paavo Nurmi Games, Anderson Peters of Grenada won the world title at 89.30 metres, followed by an 86.69 on a slick runway at the Kuortane Games and an 89.94 at the Stockholm Diamond League.
The coach claimed that Chopra's ability to throw the lighter javelin well is evidence of his sound technique. The German provides an example of a training throw one week before the Olympics.
After earning the Olympic gold, Chopra had to work hard to get to where he was about to throw 90 metres. It was exhausting to go across the nation to get praise for becoming the first Indian track and field athlete to win a medal at the Summer Games. When Chopra arrived at the Californian training facility in Chula Vista, he had put on approximately 14 kg.
Chopra had also gained some weight after the Tokyo Olympics. So regaining athletic fitness was cumbersome for him. He began training in December and had to do everything within 5-6 months.
Chopra can throw 90 metres this season, according to Bartonietz, but he isn't letting the number fill his thoughts. To avoid focusing on a certain distance rather than the process, Bartonietz uses the famous German Johannes Vetter as an example.
Chopra hasn't won a medal at a significant tournament since four years ago, according to the athletics calendar. Chopra came in fourth at the Diamond League championship in Zurich. Chopra finished sixth at the IAAF Continental Cup in Ostrava a week later. Since then, Chopra has competed in 11 tournaments and has never come away without a prize. Eight of these have gone to him, with two seconds and one third. The Olympic champion Chopra is set to add a medal from a global championship to his resume.
At the World Championships, Neeraj would be up against reigning World Champion Grenadian Anderson Peters (Record- 93.07m) along with others like Olympic silver medalist, Czech Jakub Vadlejch (90.88m), Oliver Helander of Finland (89.83m), Germany's Julian Weber (84.91m) and Trinidad's Keshorn Walcott (88.70m).