Would you want to know the 10 best small forwards in the NBA and immerse yourself in elite athleticism, skill, and basketball prowess? From soaring dunks to clutch three-pointers, our curated list of the Top 10 small forwards in the NBA and their captivating maneuvers in defence and offence will surely leave you in awe. As basketball enthusiasts, we know how the small forward position is vital and dominant on the front and back ends of the court. With their dynamic skills of power, speed, and shooting prowess, they guard multiple positions, adapting their defensive approach to neutralize any offensive threat that comes their way. In this blog, we shall examine the top 10 small forwards in the NBA and get an insightful analysis, and riveting statistics, of these basketball icons.
List Of 10 Best NBA Small Forwards Of All Time:
1.LeBron James (Los Angeles Lakers)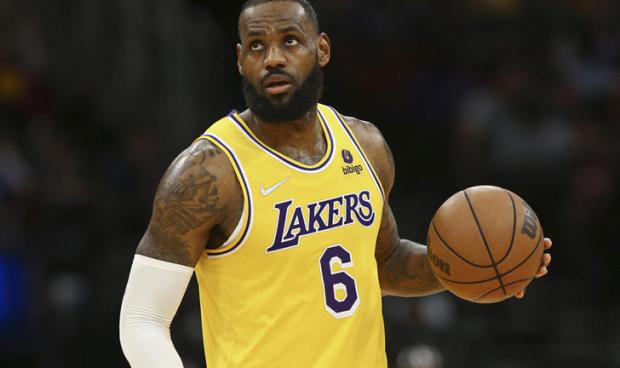 LeBron James is the best small forwards in NBA, with four-time NBA championships and NBA Finals MVPs. He has consistently pushed the limits for small forwards. With an illustrious career spanning over 18 seasons, James has achieved a multitude of milestones, potentially surpassing 35,000 career points and ranking among the top in the all-time assists category. He had an iconic moment in the 2016 NBA Finals when he potentially led the Cleveland Cavaliers to a comeback, possibly overcoming a 3-1 deficit against the Golden State Warriors. Renowned for his capacity to impact the game in immeasurable ways, LeBron James stands as an enigmatic legend of the NBA. He made a joyful announcement at the ESPYS event recently that he is extending his playing career and will be available for the 21st NBA season.
2. Kevin Durant (Brooklyn Nets)
Kevin Durant, winner of NBA Finals MVP twice, is undoubtedly one of the best NBA small forwards of all time. He has firmly established himself as a legend in scoring within the annals of NBA history. His capacity to effortlessly generate points from any location on the court and his extraordinary wingspan render him nearly impervious to defensive strategies. An iconic moment that defined Durant's career occurred during the 2017 NBA Finals when he joined the Golden State Warriors and secured an initial championship victory, thereby obtaining the honour of capturing the Finals MVP title. Despite contending with injuries in recent times, Durant's ability to deliver in crucial moments continues to astound both admirers and adversaries alike. In the 2021 Olympic Games, he led the team to secure a gold medal. Recognizing his outstanding performance, FIBA honoured him with the prestigious title of the tournament's MVP.
3. Kawhi Leonard (Los Angeles Clippers)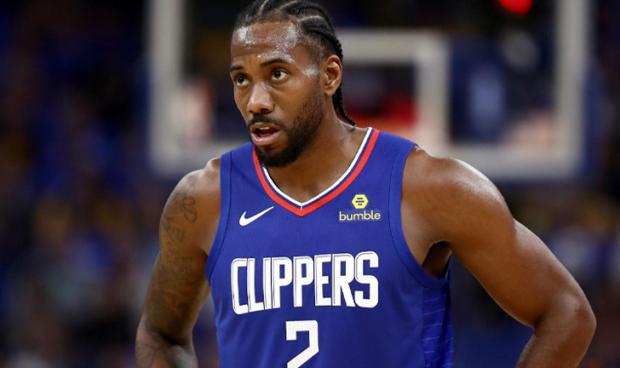 Kawhi Leonard has established himself as a defensive force and consistent scorer and is one of the best small forwards in the NBA. Two NBA championships and two NBA Finals MVP honours are among his accolades. He guided the San Antonio Spurs to victory in 2014. Leonard's career points have exceeded the 10,000 mark, demonstrating his influence on both offence and defence. A standout instance occurred in the 2019 playoffs when he sank the decisive shot in Game 7 against the Philadelphia 76ers, with the ball bouncing tantalizingly on the rim before finally dropping in. The inclusion of Kawhi Leonard in the Top 3 may spark differing opinions due to his absence from NBA games since June 2021.
Also Read: Legendary Playmakers: Ranking the Top 10 Point Guards in NBA History
4.Giannis Antetokounmpo (Milwaukee Bucks)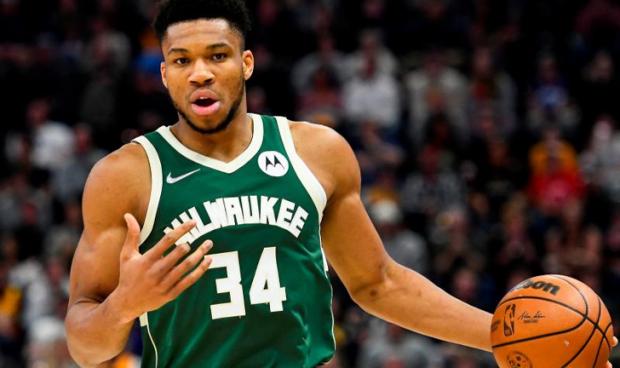 Giannis Antetokounmpo's journey from a 'Greek Freak' to the best small forwards in NBA is awe-inspiring. He is known for propelling the Milwaukee Bucks to a long-awaited championship, ending a 50-year hiatus. Accumulating over 12,000 career points, Giannis harnessed his exceptional physical attributes, remarkable agility, and unwavering determination. A defining moment materialized during Game 6 of the 2021 Finals, where he astoundingly tallied 50 points, securing the coveted title.
5. Jimmy Butler (Miami Heat)
The unwavering determination and exceptional leadership displayed by Jimmy Butler have made him the best NBA small forwards of all time. Under his accolades are being a 6-times NBA All-Star, 5- times All-NBA Team, 5 times NBA, and achieved the feat of winning an Olympic gold medal at the 2016 Summer Olympics. In a historic triple-double in Game 3 of the 2020 Finals, he was involved in a captivating duel with LeBron James and led the Heat to an unforgettable victory. With over 10,000 career points till now, his formidable defence, clutch scoring, and strong work ethic have endeared him to fans and earned him immense respect across the league. He surpassed Wade's former franchise record of seven 40-point playoff games and recorded his eighth 40-point playoff game.
6. Jayson Tatum (Boston Celtics)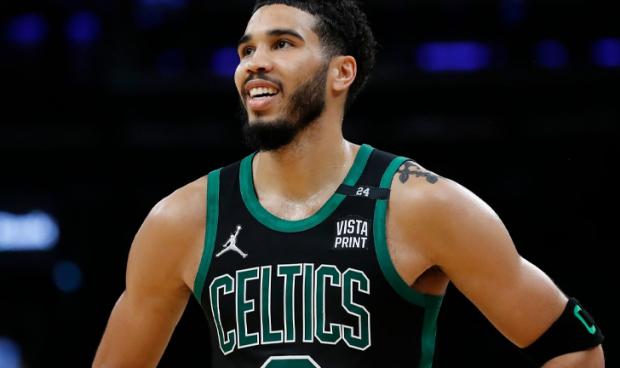 Jayson Tatum, the young and dynamic player, is among the best small forwards in the NBA. Tatum's career points have surpassed the 6,000 mark, showcasing his seamless scoring prowess, refined offensive skills, and enhanced playmaking abilities. Notable highlights include his extraordinary 50-point outburst in the 2020 playoffs against the Brooklyn Nets and his consistent scoring contributions for the Celtics. Tatum's potential appears boundless as he continually hones his skills and evolves as a well-rounded player. He has become the pillar of the Celtics franchise with multiple All-Star selections among his accolades. He grabbed a gold medal at the 2020 Summer Olympics. In 2022, he was referred to as NBA Eastern Conference Finals Most Valuable Player.
Also Read: 10 Best NBA Players Of All Time
7. Brandon Ingram (New Orleans Pelicans)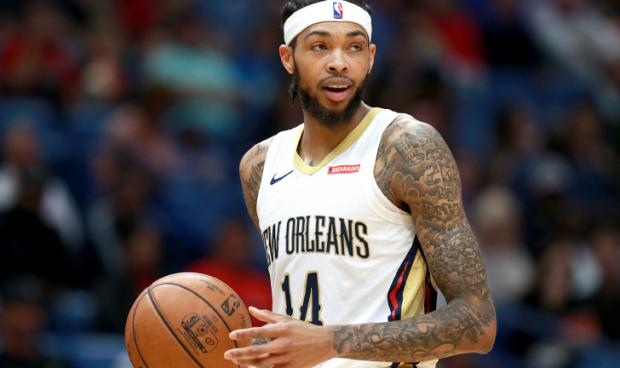 Brandon Ingram, nicknamed "B.I Kingram" or "Baby Durant", is the best small forwards of all time. Honoured with NBA's Most Improved Player during the 2019-2020 season, he surpassed the previous personal record by scoring 49 points in a 138–132 overtime win against the Utah Jazz. Demonstrating his capability to generate his shot and excel across various scoring levels, Ingram has amassed over 6,000 career points. With his fluid shooting form and enhanced defensive presence, Ingram has emerged as a rising star within the league. During the February 4, 2023 game, Ingram showcased his prowess by contributing 19 points in the second half, enabling the Pelicans to stage a remarkable comeback and surpass the Lakers. The Smoothie King Center hosts dominated the game after halftime, outscoring their opponents 70-54. Ingram concluded the game with a total of 35 points, exhibiting his exceptional shooting skills with a 15/28 shooting performance.
8. Paul George (Los Angeles Clippers)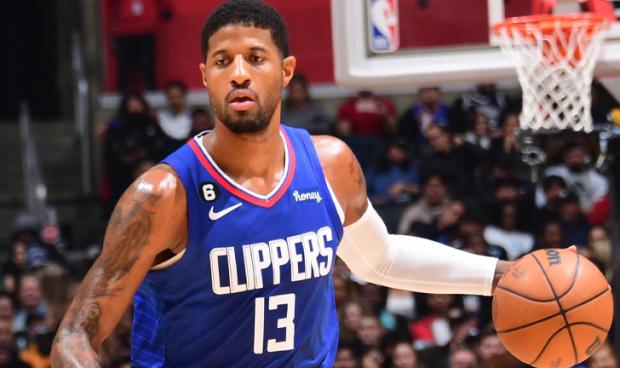 Paul George has earned acclaim as one of the best small forwards title due to his exceptional abilities on the front and back ends of the courts. With multiple selections to the All-Star Game, George's career points have exceeded the 15,000 mark during the 2020 playoffs, wherein he registered 35 points in Game 5 against the Dallas Mavericks, leading the Clippers to a historic series victory. Distinguished by the moniker "PG-13," in the 2012–13 season, George achieved personal bests by standing as the sole player to accommodate a minimum of 140 steals and 50 blocks.
9. Khris Middleton (Milwaukee Bucks)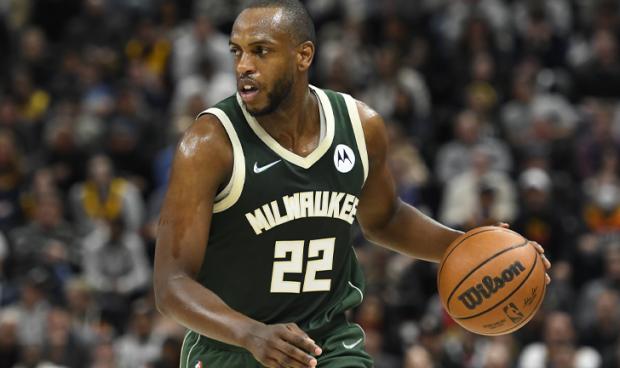 Khris Middleton is amongst the best small forwards in the game of the NBA, earning a two-time and consecutive All-Star selection. Accumulating over 10,000 career points, Middleton adeptly demonstrates his capacity to score efficiently and serve as a dependable offensive presence. His defining instances unfolded during the 2021 NBA Finals, wherein he consistently rose to the occasion, establishing himself as a trustworthy scorer and facilitator. Through his polished shooting technique, adeptness in generating his shot, and remarkable proficiency in the mid-range game, Middleton seamlessly complements Giannis, emerging as a significant asset fueling the Bucks' quest for a championship. He secured his first All-Star selection in 2019. Notably, he secured the distinction of being the inaugural G League alumnus to receive this honour.
10. Tobias Harris (Philadelphia 76ers)
Tobias Harris, a consistent and remarkable player, is the best small forwards in the NBA of all time. With over 10,000 career points, his aptitude to make significant offensive contributions is highly appreciated. Harris received the esteemed NBA Community Service Award in 2016. In 2018, He won the Kia Western Conference Player of the Month title, which marked the onset of such prestigious accolades in his professional journey. He established the "Tobias Harris School of Mentoring Program" and formed partnerships with the Yes We Can Community Center and UAS Inc to aid athletes and their parents in the recruiting and scholarship process.
With this, we conclude our list of the 10 best NBA small forwards of all time and their captivating stories of achievements. These players possess diverse skill sets and determination to excel. While the rise of young stars like Giannis Antetokounmpo and Jayson Tatum signifies a new era of dominance, the versatile play of Paul George and Tobias Harris demonstrates the existence of depth and talent already.
Also Read: 25 Interesting Basketball Facts Which Will Leave Your Jaw Dropped
Frequently Asked Questions (FAQs):
Q: Who is the best small forward ever in the NBA?
It is a highly subjective matter to name the best small forward ever in the NBA. But based on the history of their performances, LeBron James, Larry Bird, and Kevin Durant are a few best small forwards of all time.
Q: Who was the best small forward this year?
Pinpointing a single small forward as the best in any given year is not justifiable, as it depends on the team's success, individual contributions, and also preferences. LeBron James, Kevin Durant, and Kawhi Leonard delivered exceptional performances and can be considered as the best small forward this year.
Q: Who has the lowest +/- in NBA history?
Kevin Garnett has the lowest +/- in NBA history.
Q: Which small forwards have won the Most Valuable Player (MVP) award?
LeBron James, Larry Bird, Julius Erving, and Kevin Durant are the small forwards who have won the Most Valuable Player (MVP) award.