Good Cricket bats are a must-have for any cricketer in the world, but it becomes all the more important when you are just starting chasing your dreams of becoming a professional cricketer. We are bringing you a list of top 10 best cricket bats in the world. However, we do want to point out that a good cricket bat is heavy on the pocket and you may have to loosen up your wallet to get your hands on it.
There is a wild notion which people are most likely to fall prey to which is that all the bats are the same, and people who are amateurs are most vulnerable to this.

We are sorry to pop the bubble but not all bats are of the same quality, and with Bat a very important part of the kit, it becomes all the more important to spend on it, and trust us, in the long run, it will be a great investment and highly impact your gameplay.
| IMAGE | NAME | ONLINE STORE |
| --- | --- | --- |
| | SS Magnum English Willow Cricket Bat | |
| | Gunn & Moore Icon | |
| | MRF Genius Grand Edition Cricket Bat | |
| | Kookaburra Kahuna | |
| | SS Ton Gladiator | |
| | Spartan CG Boss English Willow Cricket Bat | |
| | TAURO Zing 1000 Kashmir-Willow Cricket Bat | |
| | SG Scorer Classic Kashmir Willow Cricket | |
| | Kookaburra Blaze | |
| | WOLFER Vaulter Grade A | |
So without further ado let us take a look at the list
10 Best Premium Cricket Bats For Leather Ball
Every player should choose a bat which fits him the best based on his playing style, his strength and not to forget the physical attributes. A person who does not play a lot of cricket wouldn't know that there are many different types of Cricket bats so let us take a look.
1. SS Magnum English Willow Cricket Bat
A bat which is somewhat pricey when compared to many cricket bats which could be bought at your local sports shop. However, this bate from SS is made up of It is made of English willow, which makes it a great choice for both, competitive and practice matches.
Key Features:
It is a lightweight bat
It comes with a breathable and hydrophilic to reduce condensation in the garments
It has shock absorbing ability
Has scaled grip
This awesome cricket bat was even used by VVS Laxman, Saurav Ganguly, Virendra Sehwag, Sachin Tendulkar, and many more.
Also Read: Interesting IPL Facts
2. Gunn & Moore Icon
Gunn & Moore also known as GM has been crafting cricket bats for more than 125 years and has some of the best craftsmen in the world. And with its advanced DMX technology, they create some of the best cricket bats in the whole world. Some of the features which make this bat so good are as follows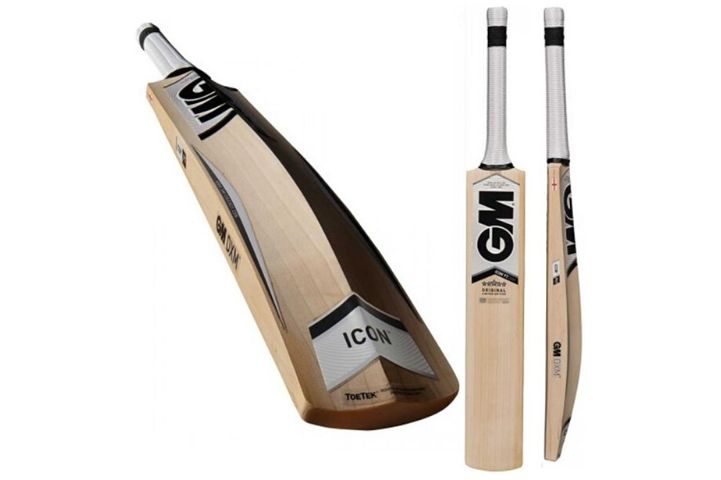 Key Features:
GM Powerarc Bow Face Profile
Lightweight Design
Super Concave Profile and Toe
Full Concaved Back Profile To Maximise Pick-Up
This cricket bat was even used by the likes of Jonathan Trott, Herschelle Gibbs, Michael Lumb, Johan Botha, James Hopes, Adam Voges and even Shane Watson.
Also Read: Top Batsman in The World
3. MRF Genius Grand Edition Cricket Bat
Coming from the house of MRF which is an Indian rubber company famous for its automobile tires has been imprinted in your minds since our childhood all thanks to Sachin Tendulkar who always used their bats. This MRF bat is one of the best cricket bats for a leather ball you can buy and is one of the most expensive ones as well. But the features of the bat may help you better decide if this is the one for you.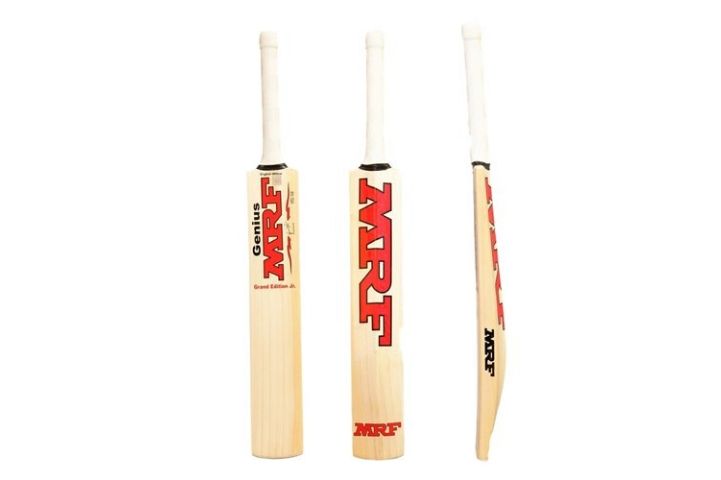 Key Features:
Made from the premium quality English Willow
Optimum Balance with thick edges and shoulder
Light Pickup & Curved Blade
Lightweight
Made using the latest technology of f7 massive countered edges
If this wasn't enough, probably the fact that Virat Kholi plays with a variant of this bat may just seal the deal.
Also Read: Interesting Cricket Facts
4. Kookaburra Kahuna
Kookaburra is one of the best brands in the game of Cricket, however, not many people know about the brand because of the niche. Kookaburra Kahuna is one of the top cricket bat series you can grab at the moment. The bat is so good that it has been endorsed by the likes of Martin Guptill, Ricky Pointing, and Moeen Ali. Let us take a look at some of this bat's features.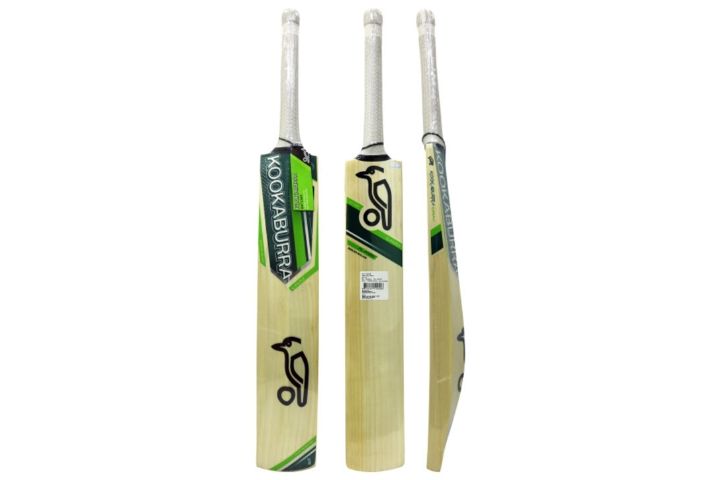 Key Features:
Made of fine quality English Willow
Tow guard is included with the bat
High Spine and Big Edges giving bigger hitting area
A lightweight bat for easy gameplay
In the new era, players such as Jos Butler and Sanju Samson can be seen playing with this cricket bat.
Also Read: Best Fantasy Cricket Apps in India
5. SS Ton Gladiator
Another cricket bat on the list from Sareen Sports Industries' SS Sunridges line of bats which is considered to be one of the best affordoable cricket bats in 2023 on the entire world and it has the stats are features to prove it. Also, players like Sourav Ganguly, VVS Laxman, Kumar Sangakkara and Virender Sehwag have all used this series in the past.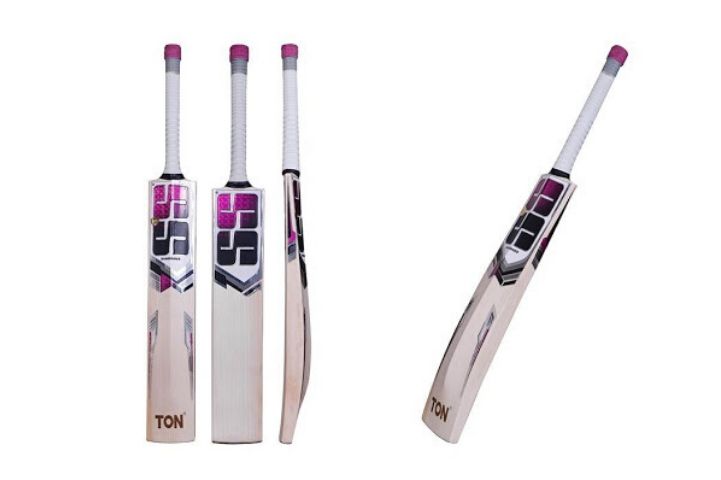 Key Features:
Made of Hand Selected Super Grade 1 English Willow
Highly Concave edges
Scale Grip for great comfort and control
Round handle
If this isn't enough, the series is currently endorsed by West Indies blaster Andre Russell and even Darren Bravo.
Also Read: Top 15 Batsmen With Highest Sixes In IPL
6. Spartan CG Boss English Willow Cricket Bat
Spartan Sports is an Australian company known for making one of the top cricket bats in the whole world which a lot many cricketers use. The company is mainly known for the huge hitting capabilities of their bats. Let us take a look at this bat's features.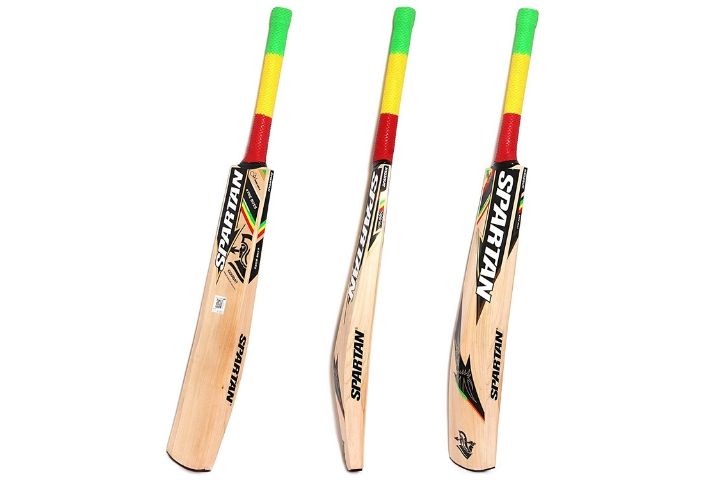 Key Features:
Thick edges for sustaining heavy hitting
Slight bow which generates perfectly balanced pick up
A MAXIMUM rebound system for power, and execution which boosts confidence
Slightly square toe to increase hitting surface area
Made of Grade 2 English Willow
If you think these features are not enough maybe the facts like MS Dhoni, Chris Gayle and David Warner all endorse their bats should tilt you because the game has not seen bigger heavy hitters than them.
7. TAURO Zing 1000 Kashmir-Willow Cricket Bat
Cricket bats made of Kashmir willow are popular with both professional and recreational players. These are one of the best cricket bats and are normally best for leather balls but may also be used with tennis balls, are renowned for their superior strokeplay, improved sweet spots, and high shock absorption.
Crafted from the finest grade Kashmir willow, this bat is ideal for players aged 14 years and above. It weighs around 1200-1250 grams and is suited for all levels of play. This cricket bat has a large sweet spot for explosive power and is available with a wooden handle.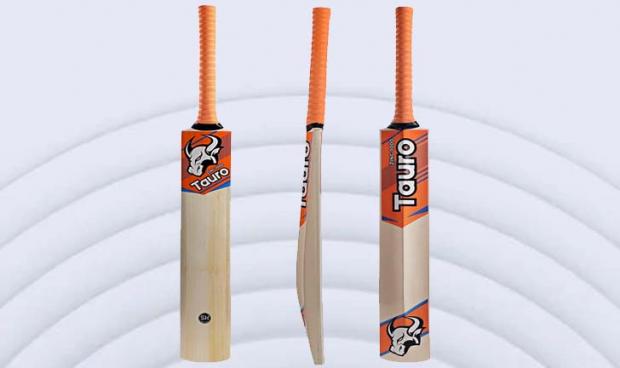 Key Features:
For unsurpassed stroke quality, perfectly balanced
The Bat includes a full cover
Built to last a long time and provide performance
Ideal for leather ball
Also Read: 10 ODI Bowlers in the world According To ICC
8. SG Scorer Classic Kashmir Willow Cricket
Your quest for the finest cricket bats ends here. The SG Scorer Classic Kashmir Willow Cricket Bat, manufactured from hard-pressed Kashmir willow and shaped conventionally, offers maximum stability to the batsman. Its traditional round-shaped Singaporean cane handle has a unique three-way inlay of rubber for increased flexibility and stress absorption. It equips the batsman with a superior grip and complete bat control. A stylish, full-length bat cover is included to keep your bat safe when not in use.
This bat is designed and structured traditionally for the best stability when playing strokes for added durability and covers the fabric. Premium quality Sarawak cane is sourced from Malaysia and used in the making of this cricket bat. The bat has grain-facing bat tape covering it, giving it a smooth finish and trendy look.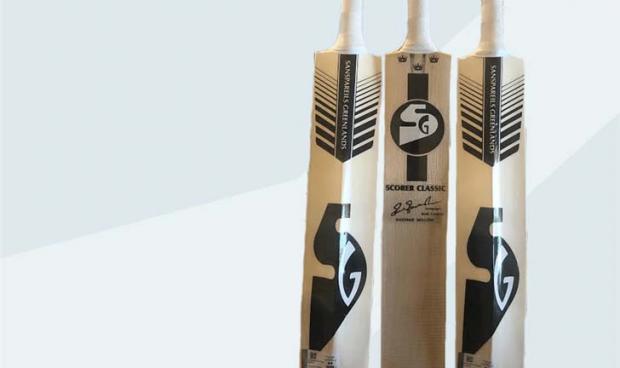 Key Features:
Made from premium quality Kashmir willow and Singapore cane handle
Ideal for an all-round playing style
Spine Profile: Medium
Traditionally designed for optimal stability when playing shots.
9. Kookaburra Blaze
This Australian sports equipment company, the Kookaburra, is so good that not just one but two bats are on the list of top cricket bats in the world. It's Angry Beast series is premier bats range from the company which seems light as a feather when compared to others. Let us take a look at some other features of this bat.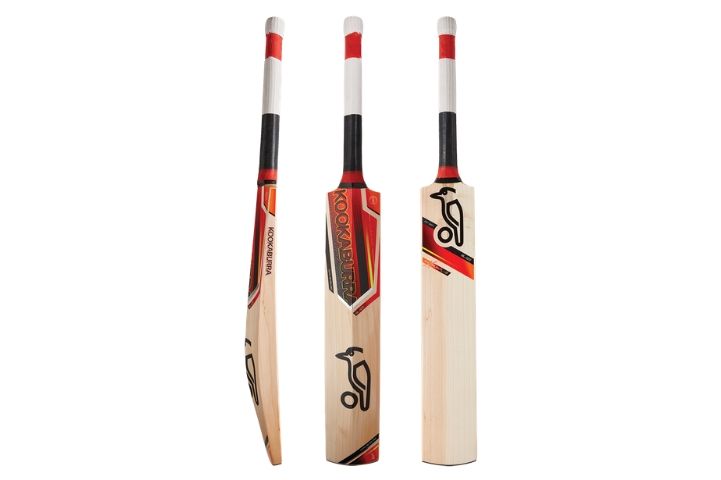 Key Features:
Made of an unbleached English Willow
Huge edges to reduce power loss
68mm spine which generates maximum power
Sweet Spot
Kookaburra bats are endorsed by some of the best players in the world including Jos Buttler, Martin Guptill, Dan Christian, Nathan Coulter-Nile, and Dean Elgar just to name a few.
Also Read: 10 Best Cricket Captains In The World Who Dominated The World Stage
10. Wolfer Vaulter Grade A
The Wolfer Vaulter Grade 4A English Willow is a handcrafted bat made from fully pressed English willow. The willow was chosen for its important characteristics, such as the right moisture, few to no marks, and extraction from the appropriate mature part of the tree. As a result, it required little effort to knock and could be used for playing very quickly. The most recent design makes it easier for the player to adapt to all game styles, including T20 for quick hitting and 50 over and Test matches for stable and reliable ball striking. The bat enables fantastic pick up with its thick edges and curved blade. Rubber grip on a short-handlehandle Singapore cane. It is a handmade bat crafted from selected willow that has no toxicity, with a padded cover for increased protection.
The bat weighs around 1150-1300 grams and has a unique contour alongside additional material behind the sweet spot to deliver extra power and punch.
Key Features:
Blades made from high quality English willow.
Has the perfect moisture content, minimal knocking, and provides weather-resistance.
Profile: Mid sweet spot
9-piece imported cane handle – efficient in absorbing shocks.
With this, we have concluded our list of best cricket bats in the world for 2023. These are some of the best bats you could find out there however, we would like to point out that sometimes the company is out of stock of a certain series you can either wait for that bat or you have the choice to buy another bat from that company because these companies are some of the best there can be.
A disclaimer: This list is not a ranking from 1 to 10, these are the top 10 bats that our team found the best value for money and are listed in random order.
Frequently Asked Questions (FAQs)
Question 1: Which is the No. 1 bat?
Answer 1: Choosing a No. 1 is very difficult because it all depends on your playing style and even the format and level you play at. However, the list above states the top 10 cricket bats in the world you can buy right now.
Question 2: What cricket bats do professionals use?
Answer 2: Professional cricketers do not use just 1 type of a bat, at times their bats change depending on the format of the game. However, the list above of the 10 best affordable cricket bats tells you just which bats the cricketers use.
Question 3: Which is the most powerful bat?
Answer 3: The power of the bats comes from the shape and size, and can be seen from the spine of the bat. There are a couple of bats in the list which are used by some of the best heavy hitters the game has ever seen, including Chris Gayle, and MS Dhoni.
Question 4: Which Bat is used in Cricket?
Answer 4: In general cricket bats are made of Kashmir and English Willow. Kashmir Willow is heavier and harder in nature while English Willow is lighter and softer in nature.

And also English Willow gives a better ping off the bat which is why they are more widely used. However, as we said, your playing style and the format of the game also dictates the type of bat you must use. Also, as English Willow bats have higher grains, they last longer.